Zurich Airport Transfer by Traserbas | The Most Comfortable Way to/from Zurich Intl. Airport
Zurich Airport Transfer, These are the Options
Train
Bus
Taxi
Private Transfers
Zurich Airport Location

Traserbas provides best value private Zurich airport transfers. You are looking for a business airport transfer for corporate executives or just a affordable private transfer to/from Zurich airport (ZRH) with your family?
Quick Quote
Important to Know Before Booking a Private Zurich Airport Transfer
Traserbas Affordable Private Zurich Airport Transfer can be booked with WhatsApp, Email, Contact Form or Phone Call
Our Transfer to or from Zurich Airport is not a Shared Transfer
All our Airport Transfers can be paid with Credit Card or in Cash (Swiss francs, Euros)
Choose between a Car, Limousine, Van/ Minivan up to 7 or 8 People or a Minibus up to 14 Passengers
Your Driver will Meet you in the Arrivals Holding your Name Plate
Zurich Airport Transfer for Everyone
Business Zurich Airport Transfer for Executives
You are looking for a reliable airport transfer from Zurich international airport? You came to the right place. Traserbas is a local private transfer provider from Zurich airport throughout Switzerland and all neighboring countries (Germany, France, Austria, Italy and Liechtenstein). Our premium business transfers for executives are the answer for all your private transportation needs. Dedicated chauffeurs with a clean car of choice.
Private Zurich Airport Transfer
Traserbas private Zurich airport transfer means that you wouldn't share your transfer with other people. Your personal driver waits in the arrivals of Zurich airport, helps with your luggage and he take care for a comfortable ride.
Zurich Airport Transfer for Individuals
You are on your way to Zurich intetnational airport, with your family? Look no further because we are specialized with our 8 seater minivans to transfer families and small groups to and from Zurich airport. Infant seats, child car seats and car booster for kids up to 12 years you get with Traserbas for free because all our displayed prices are all inclusive rates with absolutly no hidden fees.
Zurich Airport Transfers for Small Groups up to 14 Passengers
We offer you to book your private airport transfer with our minibus services up to 14 passenger. Reserve now and pay your driver, so simple
Most Booked Private Transfers to or from Zurich Airport
Transfer Zurich Airport to Zurich City Chf 95.-
Transfer Zurich Airport to St. Moritz Chf 590
Transfer Zurich Airport to Zermatt Chf 750
Transfer Zurich Airport to Davos Chf 590
Transfer Zurich Airport to Basel Chf 280
Transfer Zurich Airport to Zug Chf 160
Zurich Airport Transfer with Different Vehicles
Zurich Airport Minibus Transfers
Zurich Airport Van/ Minivan Transfers
Zurich Airport Car Transfers
Zurich Airport Limousine Transfers
Zurich Airport SUV Transfers
About our Private Zurich Airport Transfer
Private Zurich airport transfer: A passenger transportation service from Zurich airport to your final destination or vice versa in a private chauffeured vehicle. Traserbas is a local company with top reviews offers Zurich airport transfer with our Zurich airport car service and Zurich airport taxi at fair rates. You can simply book your airport transfer to and from Zurich airport (ZRH) via phone, email or contact form. You don`t have to fill out long booking forms and you don`t have to make a registration. Traserbas offers personal booking.
Different names but one Airport

All this names and the code are the same airport in Zurich.
Do you have questions or need assistance?
Phone: +41 78 861 35 50

Email: contact@transfer-service-com
Private Zurich Airport Transfer FAQ
On our private Zurich airport transfer page we will try to answer all questions of our costumers from the past years, this page should be a guide if you are looking for a private airport transfer Zurich. Just to know, we are not only here to provide passenger transfers from Zurich airport, we offer the following services too:
Car and driver rental

Private transfer city to city

Luggage transfer

Ski transfers

Cruise port transfers

Hotel to hotel transfer

City to city transfers

Transfers to and from the neighbouring countries
Back to our best value Zurich airport transfer service. It will be not a problem to find a transfer from Zurich airport, you can choose from hundreds webpages/ companies but we are sure you want a reliable & affordable private transportation with friendly drivers and of course clean cars.
Zurich Airport Transfer Prices
The first question when we receive a request is HOW MUCH WOULD A PRIVATE TRANSFER COST FROM ZURICH AIRPORT TO… sure, it's the most important question. We offer not cheap rates and also not expensive rates for Zurich airport transfers, we offer fair rates. You can't expect a great service at cheap prices in Switzerland, that is absolutly not possible for any company for a long time. Compare our prices with other companies but, check also which car they offer for the offered rate and that is already the second question.
You will find many low cost/ cheap offers but is it all you want, if you don't care about comfortable cars, on time service, unfriendly drivers than is the low cost offer the best solution for your airport transfer. If you decide to book with us you can ask us to send pictures of our offered car and all pictures are self made.
Our Fleet
Limousine
Mercedes S class limo in black, long version

Mercedes E class sedan car in black
Van/Minivan
Mercedes Viano, Vito, V class

6 seater for max. 5 passengers

7 seater for max. 6 passengers

8 seater for max. 7 passengers
Minibus
Mercedes Sprinter

9 seater for max 8 passengers
This graphic shows how our Zurich airport transfer works from point 1 to point 6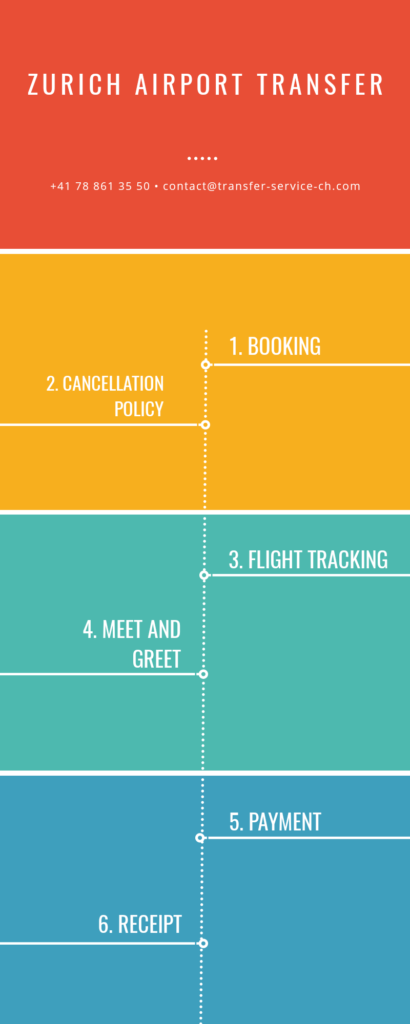 1. Booking
Traserbas offers to call us or send us an email from the first contact on, you don`t have to fill out complicated booking forms to book your Zurich airport transfer. Each airport transfer is individual, some costumers ask for a 4×4 car, some costumers ask for a minivan with extra space for their luggage etc. we give you the oppurtunity to send us 1 email with all your travel needs and we will do our best to organise it at fair rates.
2. Cancellation Policy
Traserbas offers not only fair rates, we offer fair cancellation policy too. If you book a Zurich airport transfer with us and you have to cancel your airport transfer than please do it 24hrs before the confirmed pick up and you wan`t have any cancellation fees but after 24hrs that means within this 24 hrs we charge 50% of our offered and confirmed amount.
3. Flight Tracking
Flight tracking is in our offered price too. Every flight status will be checked by our drivers, the driver knows at which terminal you will walk outside to be ready for a smooth airport transfer from Zurich international airport
4. Zurich Airport Arrival Meet & Greet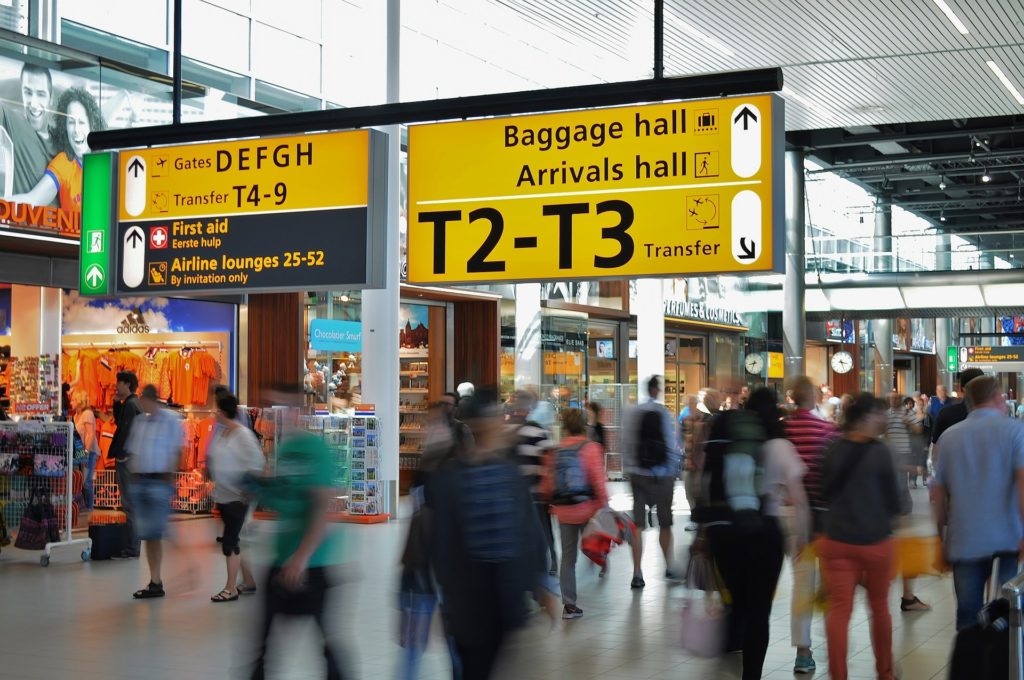 The Meet & Greet service is already in our offered price. One of our drivers will meet you in the arrivals holding your name plate, for this service we need only your flight nr. and your name. Just one thing you have to make after the baggage claim, once you are ready with your luggage you have to call Traserbas, the reason is at Zurich airport here we have high parking costs in front of the arrivals but if you don't want to call us that is of course not a problem but we have to charge the parking costs. One call and absolutly no other costs, just the offered price.
5. Payment
You have different options, you can pay your transfer from Zurich airport with cash (Swiss franc or Euros) or with your credit card. For travel agent and business costumer we offer also to prepay the Zurich airport transfer via wire transfer or by credit card.
6. Receipt
If you need a recipt after the airport transfer from Zurich please ask your driver, he will write you an receipt in the car. Of course if you pre paid you received already the recipt with the invoice.
With Google Maps you can find out how to get to your final Destination by Rental Car or Train
About Zurich
Zurich is re known as one of Europe's major business capitals, home to international financial giants, gold traders and Swiss banks, as well as FIFA; football's governing body and that is why it is regularly ranked highly as one of the most lively and radiant cities of the world with ample opportunities for both the business traveler and tourist. Nevertheless, travelling around in an unfamiliar city can be stressful and this is why your possibility of a very easy and safe to and fro Zurich airport transfer process is taken important by us and ensuring affordable services to suit your every airport transfer need.
There is a well structured network for our Zurich Airport taxi transfer which makes travelling efficient and affordable for all and sundry with unforgettable interesting memories in travel by being personal, reliable and by taking care of your complete journey.
Book Zurich Airport Transfer to any Place
Excellent Zurich Airport transfer service is our watchword specializing in cruise port transfers, tours and excursions, as well as executive and private airport transfers giving a safe and comfortable alternative to stranded in taxi lines or thinking of getting a taxi on the street. We offer series of airport transfer services and assistance based on requirement and sometimes individuality such as individual departure and arrival service, transfer to and fro your destination anywhere in the city and other neighbouring cities.
With an extensive practical and wealth of experience in airport transportation service, we understand that the airport transfer service is basically not only about the movement of our clients, but also providing a positive romance with the transport or transfer experience which plays a very important role from the beginning to the end of the airport transfer service leaving every of our clients with an unforgettable interesting story for a long time. We are always proud to be a part of your airport transfer memory and we never stop improving your experience with us with the best transfer to and from your destination in any part of the city or neighbouring countries to make every trip a happy ending.
Transfers to and from Zurich Airport
A list of our Zurich Airport ZRH Destinations
Other Services to and from the Zurich Airport