Zurich Airport to or from Basel River Cruise Port Transfer | Taxi Car Service
Total Taxi Cost Chf 280 (€265, $290) per Car and Way. Request now, Book and Pay after the Service to the Driver. Private transfer Zurich airport to and from Viking, Scenic, Crystal, AmaWaterways, Emerald, Avalon, Tauck, Uniworld and other rhine river cruise terminals in Basel.
Traserbas provides private transfer from Zurich airport to Basel rhine river cruise port as well as from Basel river cruise port to Zurich Airport. With our Basel rhine river cruise ship terminal (St. Johann, Klybeck, Dreilandereck) taxi service we can fit in up to 6 people per car and your luggage at affordable fixed prices to and from Viking, Scenic, Crystal, AmaWaterways, Emerald, Tauck, Uniworld, Avalon Waterways and other river cruise ships.
Travel Options between Zurich Airport and Basel River Cruises
You can reach the Basel rhine river cruise port terminals from Zurich airport or Zurich airport from the Basel river cruise docks by public transportation or by private transportation (taxi, private car service with limousine, minivan or minibus).
By Public Transportation
Note that if you travelling by public transportation you have to take first the train from Zurich airport to Zurich main train station (Zürich Hauptbahnhof) from there you can find a direct train to Basel main train station (Basel SBB Hauptbahnhof). But you still not arrived at your cruise ship. From here you have to take the tram. It depends on which cruise terminal is your cruise ship docked. Basel has 3 cruise ship docks. The St. Johann cruise terminal is close to the St. Johann tram station but the other 2 docks Dreilandereck and Klybeck Steiger 1 and 2 are 10 to 15 minutes from the closest tram station by foot.
Travel with Traserbas and Enjoy the Advantages
The quickest and easiest way is definitely with Traserbas. We offer a door to door service from Zurich airport or any location in Zurich to one of the 3 rhine river cruise ship terminals as well as vice versa.
Rhine River Cruise Ship Docks
A) St. Johann
B) Dreilandereck
C) Klybeck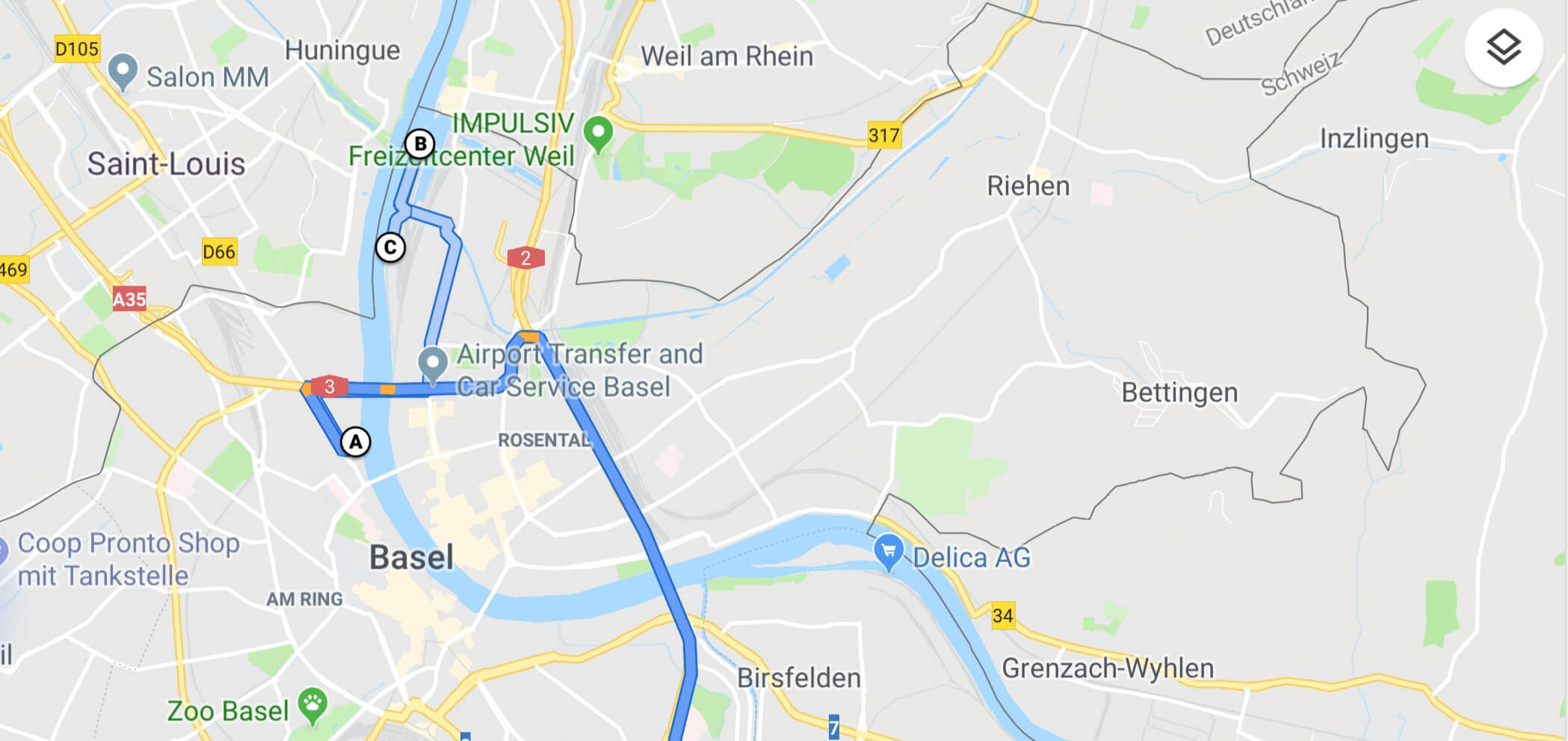 St. Johanns cruise ship dock is the one which is the closest to the Basel city centre. Walking distance 15 minutes from the city centre and by car 2 minutes.
Dreilandereck & Klybeck rhine cruise terminals are located next to the German boarder opposite France.
Basel River Cruise Companies
Viking  River Cruises

Crystal River Cruises

Tauck River Cruises

AmaWaterways River Cruises

Uniworld River Cruises

Avalon Waterways River Cruises

Scenic River Cruises

Emerald Waterways River Cruises
Distance and Driving Time between Zurich Airport and the Basel Rhine River Port Docks

For the distance of 90 kilometers it takes approximately 1 hour and 5 minutes by car.
Traserbas Easy Booking and Payment Methods
With us you don't need to fill out long booking forms and you don't have to pay in advance. The only thing is to send us an email with your pick up and drop off details and we will care about your privat transportation from Zurich airport to your rhine river cruise ship as well as from the Basel cruise terminal to Zurich airport. Our taxi is payable directly to your driver after the service in cash (Euros, Swiss francs or US Dollars).
Important to know before you go
It may be that the rhine river cruise ship dock in Basel that you got from your cruise ship is not right in the end defect. depending on arrival it may be that the ships have to change port. but that's not a problem at all.
If you arrive in Basel you can tell us the right dock the day before your arrival in Basel.
If you have to go to the harbor from Zurich Airport, you can tell your driver directly at which terminal your ship has docked.
And now you can request your affordable & comfortable private transfer to and from your cruise ship terminal in Basel to Zurich airport or vice versa.