Private Transfers from Zurich Airport to Lech am Arlberg with Traserbas Flat Rate Taxi Car Service
| | |
| --- | --- |
| Total KM | 195 |
| Driving Time | 2 hours 15 min |
| Total Price | Swiss franc 680 / Euros 650 |
| Max. Passengers | 7 |
| Vehicle | Mercedes E Class, Vito, V Class |
Comfortable Taxi from Zurich Airport to Lech
Book a Traserbas airport taxi and let us pick you up in the arrival hall with your name board to transfer you from Zurich airport to St. Moritz at a unbeatable fair price Chf 680. It will take 2 hours and 15 minutes for the 195 kilometers from Zurich to St. Moritz. Our price of Chf 680 is fixed without any additional costs for max. 6 persons, and you can choose between a car or a passenger van with enough room for your skis, snowboards etc. Infant/ baby seat, child car seat and booster for free on request.
First Class Limo Service from Zurich Airport to Lech am Arlberg
Or you are looking for a luxury first class airport limousine by Mercedes Benz S class, or a business executive chauffeur car service from Zurich to St Moritz? Contact us right now to upgrade your private Zurich airport transfer. Whether business executive limo for your corporate trip, or a luxury VIP limousine for any other occasion. We wait for your call or message!
Request by phone: +41788613550
Request by email: contact@traserbas.com
Payment Options
Online payment with credit card
Cash or credit card to the driver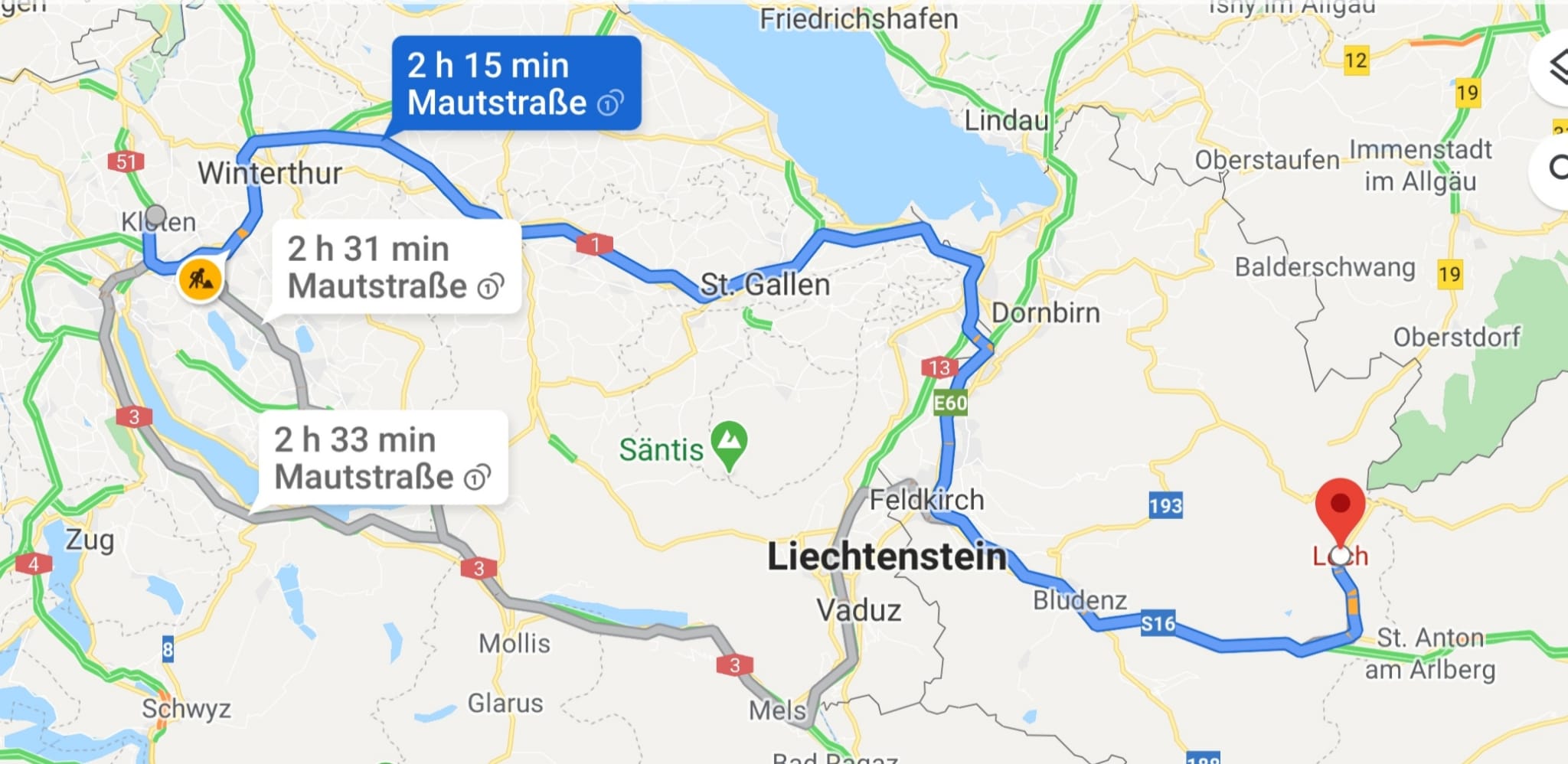 Zurich Airport Transportation Options to Lech, Austria
You can reach Lech from Zurich airport by taxi, private car service (sedan, limousine, minivan and minibus) or by public transportation the train. Note that if you travel by train, the fastest train will take 3 hours 40 minutes and you have to change 4 times your train to reach Lech am Arlberg in Austria from Zurich airport or Zurich airport from Lech. The most comfortable way is definitely our private airport transfer. Book a one way transfer or a round trip with us and enjoy the advantages of a door to door service.
Zurich Airport Transfers Year Round
Doesn`t matter if you travel alone, as a couple or in a group with 4, 5, 6 or 7 people. Whether you need a car transportation in winter to or from your ski resort for skiing, for a business trip or summer holidays, we drive you safe and comfortable year round to your destination.
Traserbas Offer
The distance between Zurich airport and Lech is 195 kilometers and it takes 15 hours by car. Traserbas offers for the route Zurich airport to Lech and from Lech to Zurich airport a private Zurich airport transfer service with our Zurich airport taxi for passengers arriving and departing at Zurich international airport (Kloten ZRH) at a very fair rate.
Transfer Time from other Airports to Lech, Austria
Basel Airport to Lech travel time 3 hours 15 minutes
Geneva Airport to Lech travel time 4 hour 55 minutes
Bern Airport to Lech travel time 3 hours 45 minutes
Book Easily Zurich Airport Transfers to and from Lech
With us you don't need to fill out complicated booking forms to book your private transport, no registration and no payment in advance requiered. You need only one step send us a email on contact@traserbas.com or call us on +41 78 861 35 50 to contact us and to provide us with your arrival details and the drop off location with the number of persons and the amount of the luggage.
Good to know after your Zurich airport to Lech, Austria booking
The Zurich airport ZRH has 2 arrival terminals, it doesn`t matter to us at which one you arrive, because Traserbas will check your flight arrival online, and once you are ready with the baggage claim please call Traserbas on +41 78 861 35 50. Your driver will be ready at the right terminal in the arrivals hall holding your name plate. There may be many drivers picking up their passengers in the arrivals for a private transportation, so please take care of your driver with your name plate. The driver will help you with your luggage, and accompany you to the car to start your travel with your personal driver from Zurich airport to Lech, Austria. Zurich airport is 195 kilometers from Lech am Arlberg away, the driving time is approximately 2 hours and 15 minutes.
Roundtrip Zurich Airport – Lech am Arlberg
With Traserbas you can book of course also a roundtrip for Zurich airport – Lech. We will pick you up on time in Lech at your hotel, apartment or at another desired pick up location to drive you directly to the departure check in terminal at Zurich international airport. To figure out at which time you have to leave for your travel from Lech to Zurich airport with Traserbas to catch your flight we recommend always to add a half hour extra time, that means 2 hours before departure you have to be at ZRH plus the usually driving time 2 hours and 15 minutes and than add the extra half hour. If you count all this togehter you have to leave Lech (Lech am Arlberg, Austria) 4 hours and 45 minutes before departure.