Hire Business Executive Limousine Services in Zurich & VIP Airport Limos at 24/7 Affordable Fixed Prices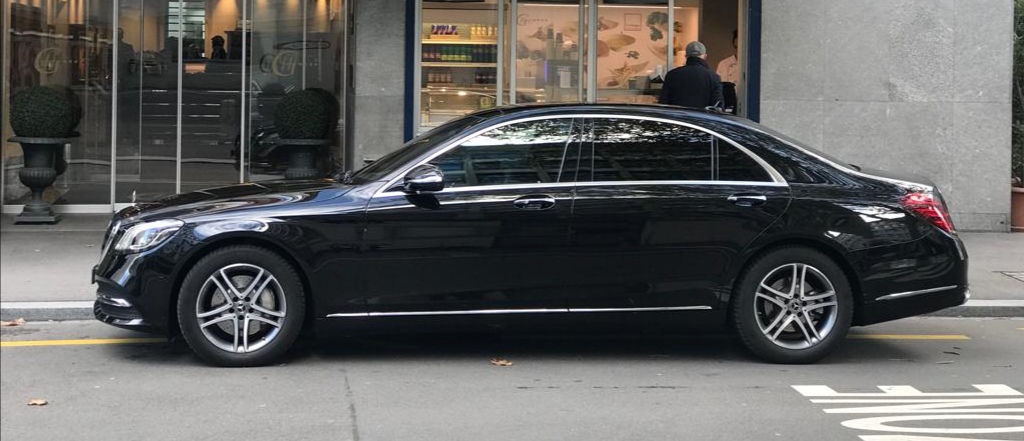 Traserbas Limousine Services Available 24/7 in Zurich, Switzerland
Hire Traserbas's business-class Limousine Service in Zurich round the clock for Zurich airport transfers, roadshows, business meetings, events, leisure travel, corporate transportation, and much more! Traserbas is available 24/7 to take your booking.
Moreover, Luxury first class limo service is available for any event with new first-class business and VIP Mercedes S class limousines, multilingual and well-trained professional drivers.
Hourly Prices & Prices for Airport Transfers
Daily Limousine Rental Rates
6 hours total price Chf 720 incl. 180km
8 hours total price Chf 840 incl. 210km
10 hours total price Chf 1200 incl. 300km
12 hours total price Chf 1440 incl. 360km
Zurich Airport Transfer Rates to/ from Zurich City/ Downtown
Mercedes S Class Limousine >>> CHF 120
Mercedes V Class Van >>> CHF 120
Mercedes E Class Sedan >>> CHF 100
Mercedes Sprinter Minibus >>> CHF 180
Zurich Corporate Limo Service around Switzerland
For corporate executives, Traserbas's  VIP limousine service Zurich is the top-rated. You will be able to reach any destination, descreet, safe, and really comfortable.
Besides that, you can Hire our luxury limos to travel from Zurich airport to downtown, St. Moritz, Zermatt, or Verbier.
Moreover, you can rent a business class limousine in Zurich with your private driver to make your next corporate roadshow in Switzerland. We also have luxury first-class limos for any VIP transportation service at the best prices and rates.
Not only that! Our limo chauffeurs are trained not only to drive professionally, but also to provide utmost attention during your limousine tour.
Famous as the Best Limousine Service in Zurich
Traserbas limousine service in Zurich is known as the best-rated limo service in Switzerland. The Combination of  Mercedes S class limousines with professional chauffeurs and really awesome prices makes us best for roadshows, weddings, prom, ski transfers, and all other events.
Additionally, you can also book our chauffeured shuttle service for airport transfer, airport pickup, and airport drop-off.
Further, No matter if you want business executive, VIP, or luxury first class limos, don't look further as we have the best on-call limos ready at your disposal. Our limos are suitable for group transportation, full-day hire, and hourly rental.
Compare also our rates with other luxury and corporate executive transportation services. However, we can guarantee you the best service at great prices.
City & Airport Limo Services
Whether you book a private limo from Zurich city or Zurich airport, our drivers are available anytime to pick you up and to take you wherever you need including ski transfers.
Your executive chauffeur is at your disposal and will also work as directed by you. You can hire your desired black and luxury S class limousine at the best hourly rates or for an unbeatable fixed full-day hire price.
We have everything from business executives to VIP limousines. Traserbas is here for you to care about all your Zurich limousine service needs.
Besides that, we also offer Private jet pick up at CatAir, General Aviation, Jet Aviation.
Also the Best limousine Service you can Book Quick & Easy
Just send us a email or give us a call on +41 78 861 35 50. You will be surprised how easy is it to work with us. No registration and no payment in advance needed. Book now and pay after the service when our excellent service is finished.
List of Vehicles for Zurich Limousine Service
With Traserbas, you get a variety of limo models and you can choose according to the number of passengers: whether there are 4, 5, 6, 7, or 8 passengers.
| | |
| --- | --- |
| Car Models | Number of passengers it can accommodate |
| Mercedes S Class | 3 passengers |
| Mercedes V Class | Up to 7 passengers |
| Mercedes E Class | 3 passengers |
| Mercedes Sprinter | 8 or 9 passengers |
Locations Traserbas Serves Other Than Zurich
Here is the list of cities where we provide service. You can book a limousine in Zurich and we can provide transportation to any of these cities.
Bern

Basel

Geneva

St. Moritz

Lausanne

Gstaad

Verbier

Vevey

Neuchatel
Frequently Asked Questions
How much does it cost to rent a limousine with a driver?
Traserbas offers affordable prices for limousine service in Zurich. We have hourly rental rates, Chf 120/hr.
What are your cancellation policy?
No cancellation fee 24hrs prior to the pick up time. Within 24hrs. the full amount.
What would it cost to hire your limousine service in Zurich for 10 hours?
That would cost Chf 1200, includung parking fees, tolls etc. It's a carefree offer.
What would be the price for an limo airport transfer from Zurich airport to Zurich city?
This service would cost Chf 120 with a Mercedes S class limousine.
Do you offer only S class limousine?
No, you can book other cars too, our fleet includes Mercedes E class, Mercedes V van class and Mercedes Sprinter minibus.