Traserbas Highly Rated Private Car Service & Airport Transfers in Switzerland with Limousines and Minivans
Plan your Private Transfers with us to and from Zurich (Airport), Basel (Airport) and other Cities and Airports or make use of our Car Rental with Chauffeur Service at Affordable Fixed Prices.

Quick Quote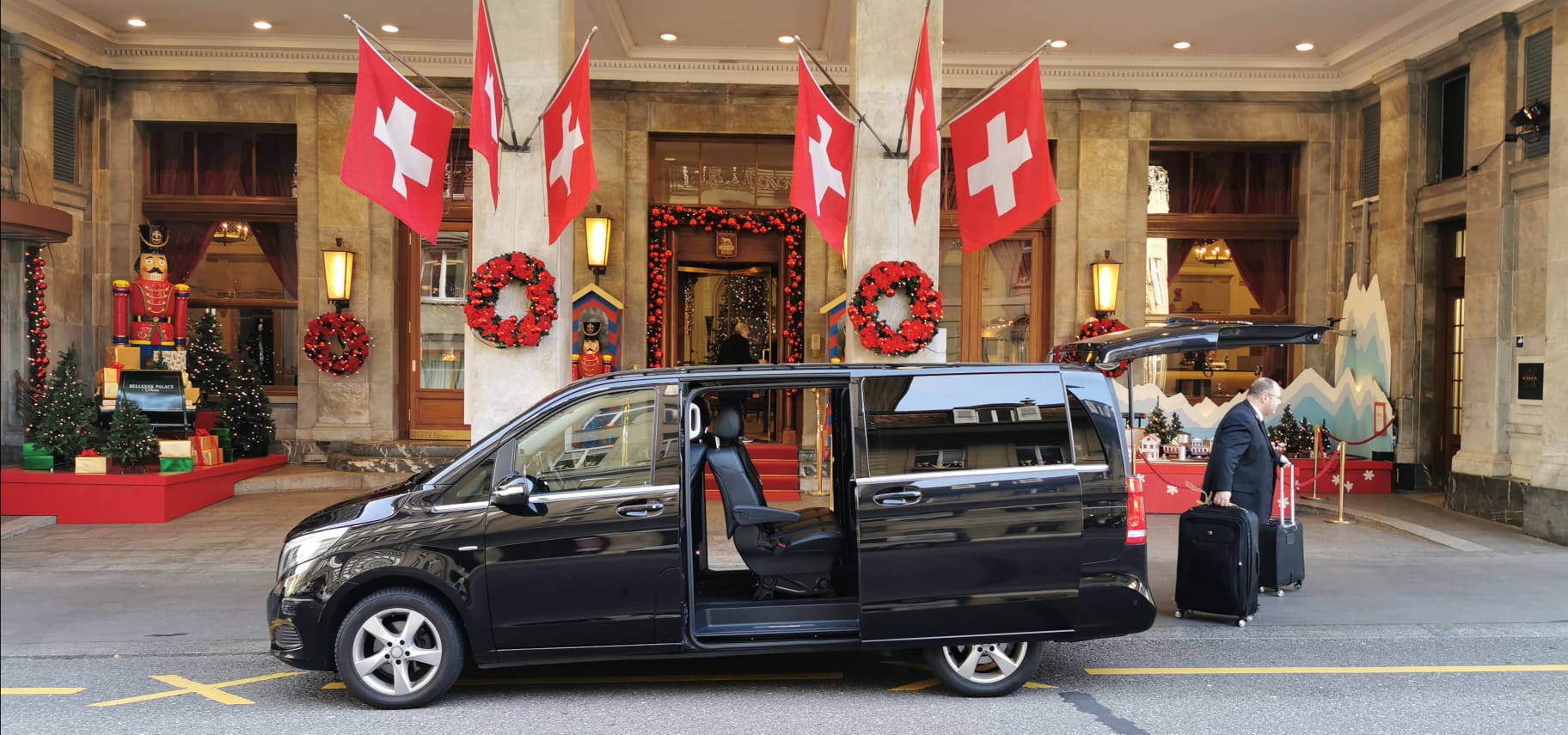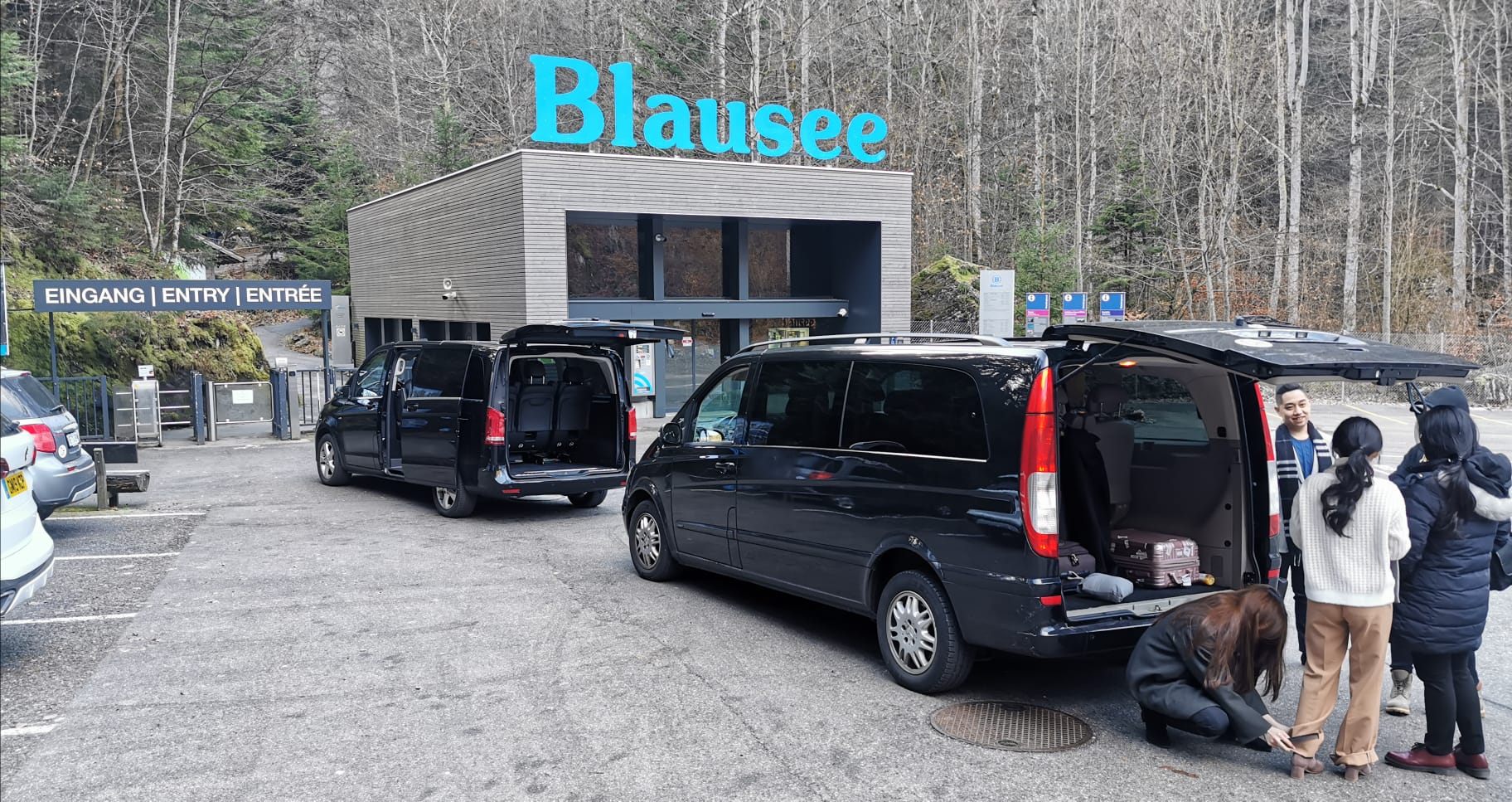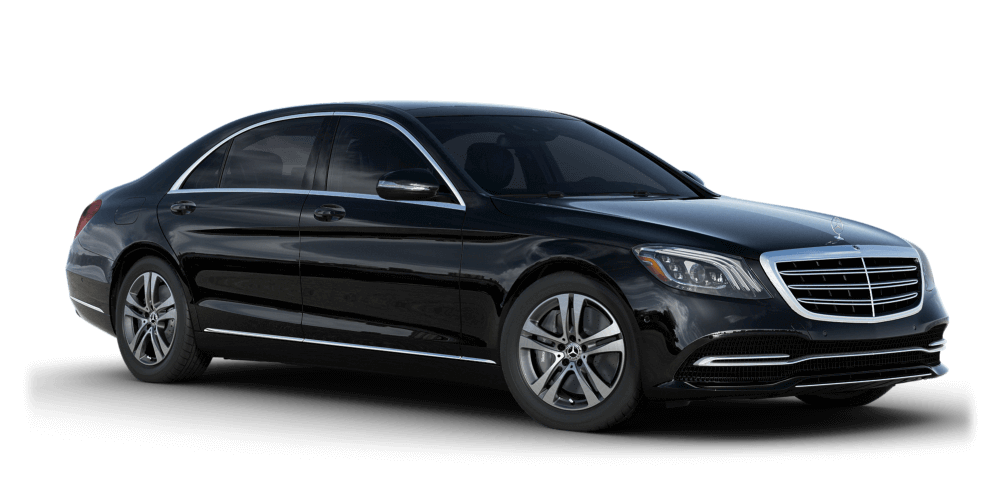 About Traserbas
Traserbas offers affordable private transfer prices to/ from Zurich airport and Basel airport with business executive and luxury first class cars and professional drivers. Whether you need a corporate executive limousine airport transfer a ski transfer during your vacation or just a simple city to city transfer. With us you can book your private transportation with premium business class vehicles for every occasion.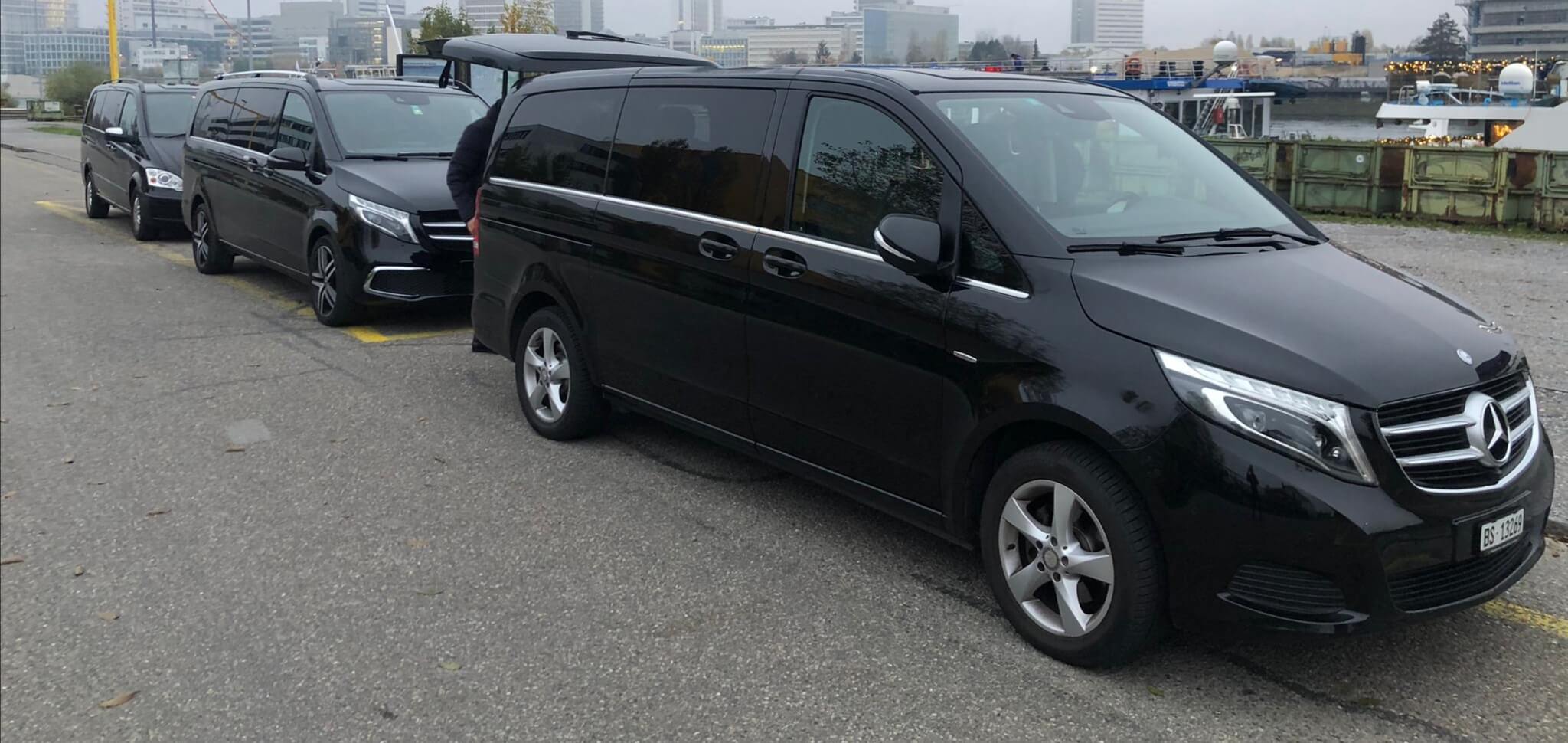 Why book a car service for Zurich Airport (ZRH) transfer and Basel Airport (MLH, BSL, EAP) transfer?
There's plenty to see and do after you land at Zurich or Basel Airports. But before your vacation or business trip gets going, you have to travel here. That means hours and hours on planes and sitting around in airports with your heavy luggage.
The last thing you want to do after all that travel is worry about how you're going to get to your next destination. Zurich airport taxi services can take a long time, they rarely have room for you and your stuff, they're frequently old and uncomfortable, and often have grumpy drivers.
TRASERBAS is different. At your disposal is a premium chauffeured car driven by only the most trained, experienced drivers. All of our cars are new and clean, ready to make sure that your stay in Zurich starts off on the right track. We offer customisable trips, book our business and luxury first class limousine service Zurich if you want us to:
Be there when you arrive
Help you with your baggage
Take you anywhere you need to be
TRASERBAS is the top-rated private and affordable car service in Switzerland for reliable executive chauffeur service, airport transfer to and from Zurich Airport and Basel Airport.
Call us now on +41 78 861 35 50 and tell us about your transportation needs.
More than Basel and Zurich airport transfers
We handle Zurich and Basel airport transfers, whisking people to their hotel rooms in supreme comfort. But airport transfers are not the only service we offer. We can also provide 24/7:
Executive Limousine service
Shopping tours
Ski transfers
Hotel to hotel transport
Driver on call/ at disposal
Transfers to Basel Cruise Port
Dropoffs for events and conventions (Baselworld, Art Basel, Swiss Indoors, WEF, etc.)
Day trips from Basel and Zurich to Germany, Italy, France
Private 4×4 (4WD, all-wheel drive) cars to ski resorts in Switzerland and the Alps, and so much more.
Easy booking and affordable prices
Booking couldn't be easier. There's just one step: just send us an email or call us and we'll help you with all your private transfer needs. We guarantee fair prices, impeccably clean vehicles and a fair cancellation policy.
Booking with us is the hassle-free way to start your trip. It doesn`t matter if you're travelling for leisure or business, or if you're a travel agent or a personal assistant and you want to book for your boss.
We keep everything simple. There's no registration required and no long booking tools. Traserbas offers a personal request and booking service. We accept payment by credit card, cash payment or by wire transfer.
Call us now or send us a request with all your transportation needs.
Premium vehicles for your Basel and Zurich airport transfer
Mercedes E class sedan car/limousine for 1-3 passengers
Mercedes V class 6-seater van/ minivan for 5 passengers
Mercedes V class 7-seater van/ minivan for 6 passengers
Mercedes V class 8-seater van/ minivan for 7 passengers
Mercedes Sprinter 9-seater minibus for 8 passengers
Traserbas Private Limousine Car Service Guarantee
Clean vehicles
Friendly and professional drivers
Highly affordable prices
No hidden fees
Simple payment options (with cash or credit card to the driver)
The most booked limousine car transfers to and from Basel Airport
EuroAirport Basel to Basel city centre
Basel airport to Lucerne
Basel airport to Strasbourg
Basel airport to Colmar
Basel airport to Freiburg
Basel airport to Interlaken
Basel airport to Zurich
Basel airport to Bern
Basel airport to Grindelwald
The most booked limousine car transfers to and from Zurich Airport
Zurich Airport to Basel
Zurich Airport to St. Moritz
Zurich Airport to Zermatt
Zurich Airport to Geneva
Zurich Airport to Andermatt
Zurich Airport to Gstaad
Zurich Airport to Verbier
Zurich Airport to Davos
Zurich Airport to Interlaken
Zurich Airport to Klosters
Zurich Airport to Lucerne
Zurich Airport to Bad Ragaz
Zurich Airport to Grindelwald
Zurich Airport to Lauterbrunnen
Best value Limousine and Chauffeur Service Basel and Zurich
You want the best value? Comfortable and clean vehicles? Just get in touch with us. With more than 50 bookings each day and the best reviews on Google, TRASERBAS won't let you down.
Are you a travel agent or a personal assistant? Look no further, contact us right now.
Our flat rates includes all taxes, fees and tolls.
BOOK (WhatsApp, Viber possible) +41 78 861 35 50
Private car and limousine service for Basel and Zurich airport transfers
You can book your Zurich airport transfer right now using our form absolutely free with no upfront payment. Pay your driver only when you get here and trust that we'll be there with the vehicle of your choice ready to take you to your next destination. We have vans, limos, SUVs, small cars, and so much more.
If you're ready to book your business executive or first class VIP Zurich car with a driver to take you exactly where you need to go, fill out the form today and reserve your spot.
We provide airport taxi services, but we do so with an endlessly customisable ride to make sure that your entire experience is as pleasant as possible.
Because we can take you anywhere you need to be, we can stop off somewhere for food, wait for you at your hotel, drop you off at multiple hotels (for when you're travelling in a group) and so much more – all for one affordable price.
Basel and Zurich airport transfer fleet – limo, van and minibus
One of the main reasons that so many people choose us for their private transfers to and from Zurich Airport and Basel Airport is because we have a full fleet of vehicles capable of handling any size group and any amount of luggage.
Right now in our fleet we have vehicles that include:
Mercedes S Class Limousine
Mercedes E Class Limousine
Mercedes V Class Van/ Minivan
Mercedes Viano Van/ Minivan
Mercedes Sprinter Minibus
TRASERBAS Zurich airport transfer and Basel airport transfer is different. These are limousine-quality vehicles at taxi prices, giving you a luxury experience without hurting your budget.
But most importantly, they're the right size for you and your luggage. Whether you're travelling by yourself, with your family, or with a large group, we will have a vehicle that can fit all of you, saving you time and energy.
Basel and Zurich Airport Transfer car service – where we go
From the moment you book a private car with driver in Zurich or Basel, we become YOUR driver. We go where you need us to go, when you need us to get there. You need a car with a driver for hire, and our team of chauffeurs will make sure that we're there to take you to all the places you want to go. That includes:
Any of the many hotels in the area. We're faster and much more private than a shuttle.
Basel Rhine River Cruise Port, from the dock to the pier to the terminal
Any of the many ski resorts, including Bern, Zermatt, Grindelwald, or Gstaad
Out of the country – France, Germany, Italy: we'll get you there.
Zurich airport taxis are available, but they're expensive and uncomfortable. There is public transportation but you're sharing with all kinds of people and pickpockets are common. The best option is to book your Zurich airport transfer or Basel airport transfer with us.
Many people consider car rentals in Zurich, but that's not always a good idea. Most vehicles are extremely expensive here, running to several hundred dollars a day. You're also not allowed to leave the country, and you have to be used to the drivers in Switzerland – who may not drive the same way as your hometown.
Basel and Zurich airport car service – here for your day trip, tours and airport transfers
We're the top-rated private Basel and Zurich Airport car service, which means that you can also hire us for other services as well. We don't just handle transfers to or from Zurich Airport and Basel Airport.
For example, if you want to take a day trip anywhere out of the country or on a long drive, we can do that in a way that taxis and car rentals can't.
Our car service in Basel and Zurich is here for you, with the luxury experience that you hope to enjoy when you visit the Switzerland area.
Popular routes for our van and limousine services
We'll drive you anywhere – no matter where you want to go. But we also have some common routes that we get requests for when people are looking for our transfer Zurich airport and Basel airport transfer. These include:
Basel to Zurich Airport
Zurich Airport to Basel
Zurich Airport to Freiburg
Zurich Airport to Bern
Basel Airport to Lucerne
Zurich Airport to St. Moritz
Zurich Airport to Vaduz/Liechtenstein
Zurich Airport to Lauterbrunnen
Of course, if you want more car services for small and large groups, we can go to airports in a huge radius of our location, including:
Switzerland
Italy
Germany
France
Liechtenstein
Austria
Very few other private car services in Switzerland are able to provide that type of airport transfer services, giving you the ability to reach any destination from Zurich Airport or Basel Airport with limited stress. Because we offer luxury minibuses and vans, you and any size party can sit back, relax and enjoy the ride as we bring you to your next destination.
VIP ground airport transfers with TRASERBAS
When you're ready to book a taxi to or from Basel Airport or Zurich Airport, don't just wait for a traditional taxi. Book an airport transfer to or from Zurich or Basel with TRASERBAS today. We have many benefits over our competitors, including:
• No upfront costs – Never pay for your ride upfront so that you always know that we'll be there to take care of you.
• No cancellation or change fees – Need to cancel or change your booking? No problem. Just let us know and we'll change our schedules right away.
• The BEST drivers – Our chauffeur service truly cares about your satisfaction, and will either help answer any questions you may have or leave you alone if you want to relax.
• Plenty of premium space – With a full fleet of premium vehicles and ample room for luggage, you'll never feel cramped or uncomfortable like you might on other taxis.
• Long-distance travel – We'll go anywhere you need us to, no matter how far or how long it will take. We can also stop off at any time and change the trip if you need additional driving help.
Don't believe us? Over the past few years, we've gone to the following ski resorts: Grindelwald, Gstaad, Zermatt, Bad Ragaz, Engelberg, Titlis, Jungfraujoch, Lauterbrunnen, Davos, Laax, Wengen, Saas Fee, Klosters, Nendaz, Adelboden, Andermatt, Champery, Lenzerheide, Leysin, Verbier, Arosa, Flims, Veysonnaz, Savognin, Villar-sur-Ollon, Zinal, Leukerbad, Les Diablerets, Montana, Beckenried, Saanen, Interlaken, Bettmeralp, St. Moritz.
And that's JUST the ski resorts that we've taken our riders to. That doesn't include all of the hotels, restaurants, landmarks, convention centres, and so much more.
TRASERBAS truly believes that transportation is a critical component of an enjoyable vacation or business trip, and that's why our luxury car service and limousine rentals are here to ensure your Zurich Airport, Basel Airport, or other taxi destination needs are met.
Fill out the form on our website, and our team will be there to assist you with your transportation needs the moment you arrive. Let TRASERBAS be your top choice for Basel and Zurich airport transfers.